Take Inspiration to Beautify Your Apartment Balcony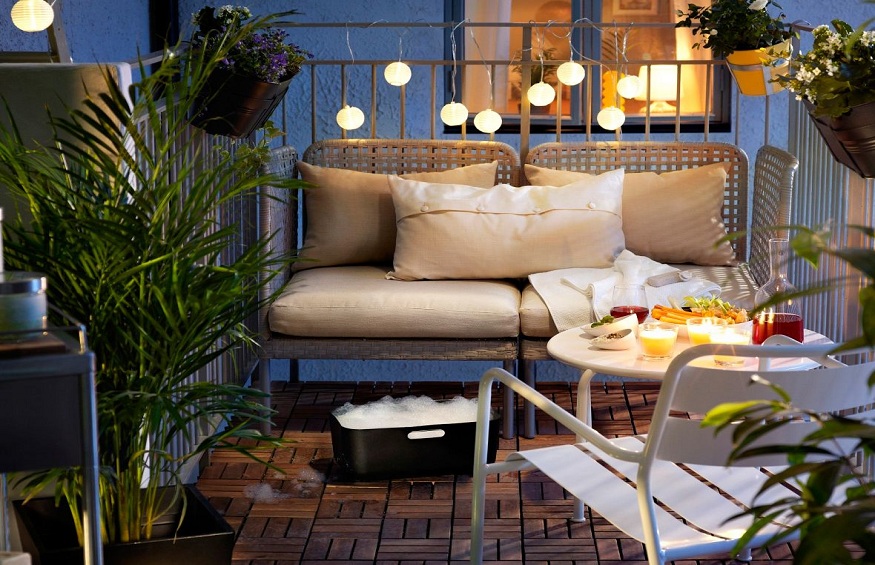 Having a balcony for people living in city apartments is nothing but a dream. If you are one of those who are blessed to have a balcony with some view, no matter how tiny it may be, you must make the most of the space. This means effectively utilizing the space to creatively design and accessorize it. It's more than just placing a couple of chairs and tables, let us give you some inspiration to beautify your apartment balcony.
1. Consider the Proportion: In balconies with space constraints, itis important to bring in furniture design that's proportionate to the size of the space. Compact and foldable furniture becomes a good choice, you can also explore the idea of built-in seating like a bench that saves big on space. Add a small foldable table too so that you can enjoy your morning coffees or evening drinks with your family and friends.
2. Add a Swing Chair: A swing chair for your outdoor space is the perfect personification of leisure and luxury. Opt for the hanging swing chair model instead of the stand one so that it occupies lesser space. Don't hang the swing chair closer to the other chairs, this may cause obstruction, rather hang it to the other end of the balcony to create a perfect getaway spot to watch the birds chirp in the morning and stars shining at night.
3. Green it Up: Adding plenty of potted, blooming plants brings you closer to nature especially if you live in a skyscraper. You can also grow some herbs in your balcony corner so that they make your balcony naturally fragrant. If you don't have space to accommodate many pots then use the vertical space of the balcony wall. Drill some shelves and place potted plants on the wall or simply hang creepers or planters and let them cover your wall.
4. Lighting Matters: Don't let dim lights be a spoiler for late-night hangouts. Hang some lanterns, string lights, wall mount lamps, or sconces to brighten up your space. You can also light fragrant candles and place them in the corners to add an aroma to your beautiful balcony.
5. Create Your Own Private Space: If you share your balcony wall with your neighbor, we suggest that you hang shades made of bamboo to create an imaginary wall. You can also grow tall trees like bamboo so they act as natural barriers. This way you can have some cozy time with your partner without the botheration of the onlookers.
6. Accessorize Wisely: Don't get carried away while accessorizing your balcony especially when you have just a couple of square feet, you may end up making it look cluttered. Go easy with the wall paintings and wall hangings because you do not want to have those washed away or knocked down during the monsoon. We suggest you don't add a rug, for the same reason, but if you want to then go for carpets called daries that can be washed and dried easily.
With the above décor suggestion, we are sure you will feel confident now to design your apartment balcony in style.