Tips To Wear Pearl Necklace On Contemporary Clothes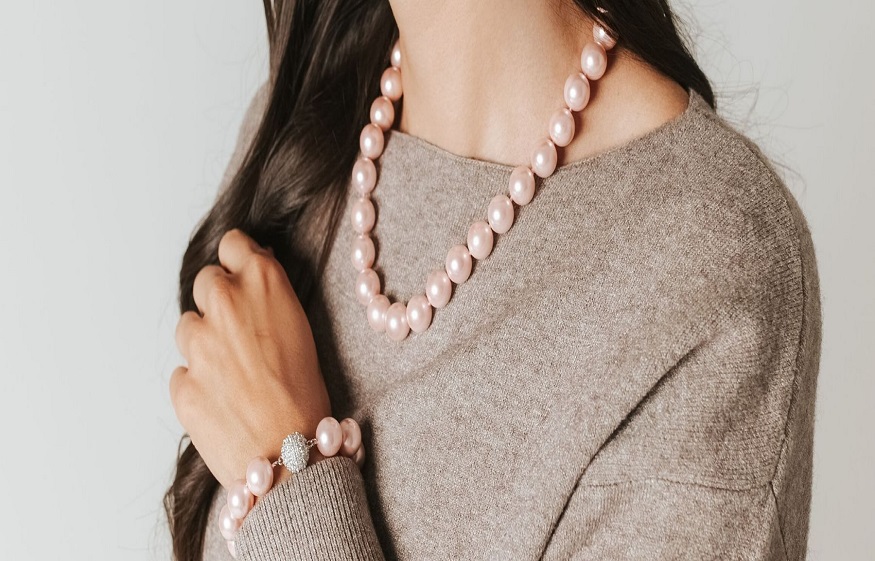 If there is anything in the world of jewellery that will never be passé, then it must be a pearl necklace. There is no way that one could go under-dressed or over-dressed in a beautiful string of pearls. Pearls have represented sophistication and glamour since ages, and when it comes to style, pearls have earned a place of classic fashion piece.
It all started with pearls adorning the rich and royal aristocrats back in time. The penchant for pearl necklaces was carried forward by the fashion icons like Coco Chanel and Audrey Hepburn. Today we see pearls being a part of both chic and minimalistic fashion closet.
This way, the love affair with pearl necklace continues, and pearls remain a must-have in the classic fashion list. If you are still confused about how to include a pearl necklace in your contemporary ensemble, then here are a few tips that will help you to rock pearl like a style diva.
Pearl necklace at the office–In an office, there are constraints on clothing, and you can hardly experiment with formal clothing. When you want to make an impression with formal clothing, go for a single strand pearl necklace and watch its minimalistic beauty do magic.
Pearl necklace at formal events– If there is an achievement awards function, launch party or any formal event where you wish to make a noticeable entry, then here is the solution. Pick a solid-coloured dress with a sharp silhouette and pair it up with a multi-layered pearl necklace.
Pearl necklace as everyday wear – Who says you can't run errands wearing a pearl necklace? If the necklace isn't too heavy and dramatic, then you can surely wear it with your denim and t-shirt or shirt and look classic while you shop.
Pearl necklace at the wedding– In case you are planning to don a minimalistic bridal look that is classic and fashionable, then go for a pearl statement necklace. A statement pearl necklace would look fabulous with open necklines like scoop neck, V-neck or strapless dresses.
Pearl necklace at a party – It is not necessary that you always must be colourful at parties. Sometimes it is the subtle style that makes a significant impact. Be it an endless pearl rope the Great Gatsby way or an alluring pendant pearl necklace, there is always room to make a chic appearance with pearls.
Style is not just about following trends, rather style is a language that speaks about your personality through what you wear. Especially in a modern competitive world, it is all about making a remarkable impact and standing out from the crowd. Remember, you don't make it loud; instead, make it chic. Pearls are the best option to do it. Be it classic white round ones or colourful asymmetric ones, a pearl necklace will definitely keep all eyes in the room on you.